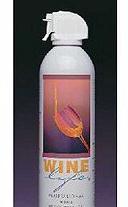 WineLife Wine Preservation System - Simple, Convenient, Inexpensive
Winelife preserves the taste and bouquet of open bottles of fine wine using the same method as premier wineries use worldwide. Your partial bottles of fine wine can be kept fresh for weeks with Winelife, the most convenient wine preservation system anywhere. Just a two second application of Winelife will insure that your last pouring will bring as much satisfaction as the first. Each smart-looking container can stop wine spoilage in up to 120 bottles of wine.

Wine Preservation that is Proven and Tested
ETS Laboratories, a noted enological testing laboratory in Napa, California, tested Winelife and found it to be effective in the reduction of wine oxidation spoilage. Testing showed that no significant differences were observed between freshly opened wine and wine in bottles that were opened, then treated with Winelife and held for 10 days! Many satisfied customers claim Winelife keeps bottles fresh for months! As you can see, Winelife is a proven wine preservation method.

Where to Use Winelife for Wine Preservation
Winelife can be used:


What about other Wine Preservation Systems?
You may be considering other wine preservers. Winelife is superior to other wine preservation systems based on a number of factors, including effectiveness, cost, and ease-of-use. For example, compare Winelife to:
Wine Dispensing Machines – wine bars are very expensive and require a lot of space.
Vacuum devices – wine bottle vacuum pumps and stoppers are not nearly as effective as Winelife
Argon gas – argon is much more expensive, and wines treated with argon need much more aeration before drinking.
Winelife is a long-performing wine preserver - since 1987, Winelife has been keeping wines fresh all around the world.
Buy Winelife now!
Use Winelife, the wine saver that is tested by an independent wine laboratory and proven to reduce the effects of oxidation. Avoid wine spoilage and wine deterioration with this proven method for preserving fine wine in your home, in restaurants and tasting rooms. You can buy Winelife right now using our secure online ordering system.